FIT
Size is messured flat
SUGGESTION
MAX is maximuim capacity
| | | | | |
| --- | --- | --- | --- | --- |
| Size | Length | Height | Width | MAX |
| | | | | |
| | | | | |
| | | | | |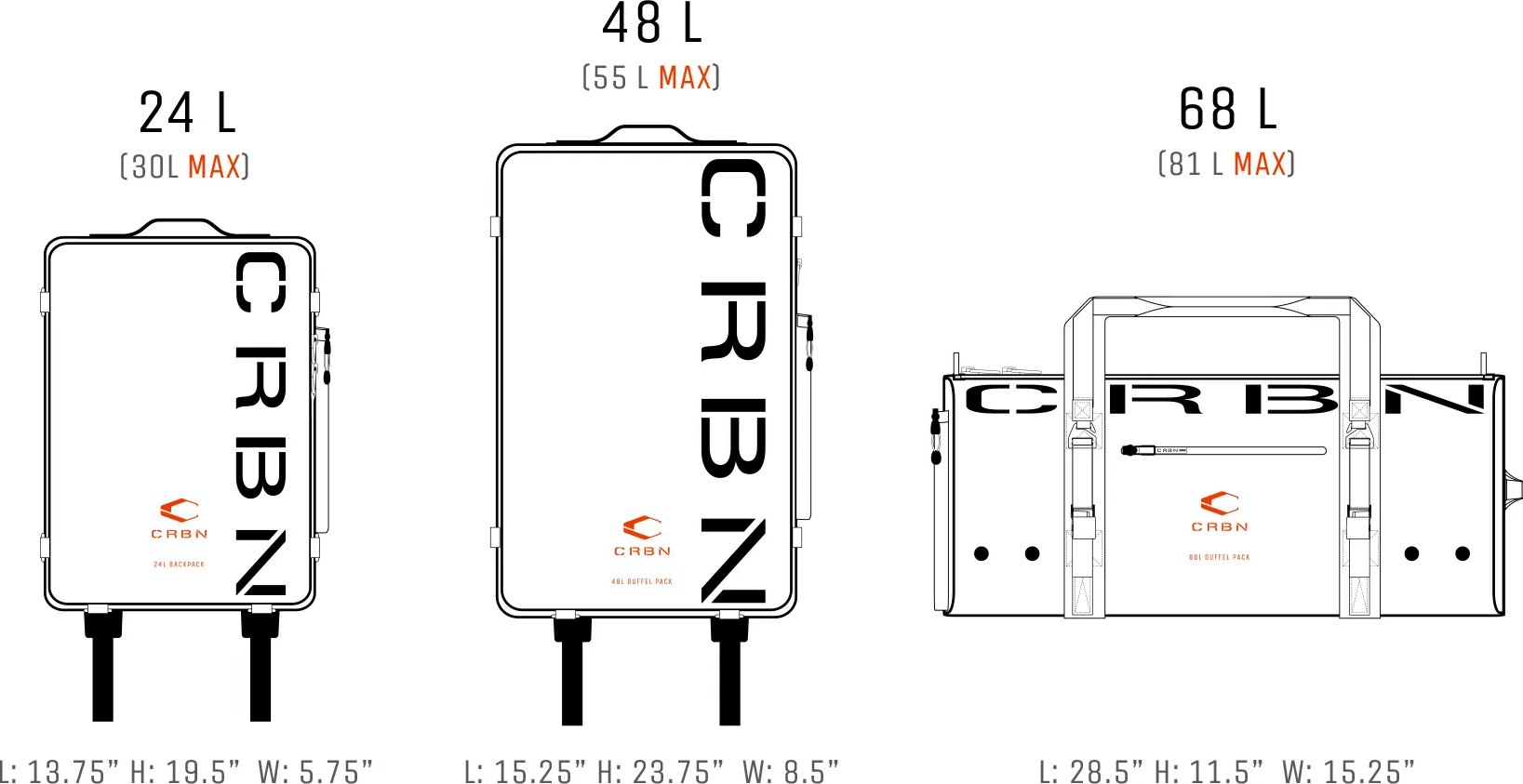 CRBN 48L Dufflepack is the perfect compromise between an everyday backpack and an oversized duffle bag. Versatile design featuring weather resistant exterior and easy clean interior.
Minimalist layout with one large main compartment, complemented by exterior clips and interior zippered mesh pockets. Integrated ventilation buttons for proper airflow to reduce moisture build up.
+ 48L Dufflepack Design
+ 3 Layer PU Laminate Weather Resistant Material
+ 2 Layer PU Laminate Easy Clean Up Material
+ Water-proof Zippers
+ Ventilated Airflow Main Storage Compartment
+ Padded Back Zipper Opening
+ Padded Accessory Pockets With Mesh Overlay
+ 6 Exterior Equipment Clips For Accessories
+ Oversized Adjustable Padded Shoulder Straps
+ Exterior 1.5L Bottle Holder With Adjustment Pull
+ x6 Apple Air Tag Attachment Points
(Air Tag Not Included)
+ Keychain/ ID Storage Clip
!IMPORTANT! 48L Backpack is designed to be weather resistant and easy to clean. Wipe down with a damp microfiber towel. Air dry with compartments open.
!WARNING!  Do NOT machine wash or dry. Wipe down with soft wet cloth and air dry.
+

DESIGN
+

DESIGN
RESISTANT
Matte finish exterior designed to be weather and stain resistant. High visibility interior for easy cleaning.
+

MANUFACTURING
+

MANUFACTURING
DURABLE
Constructed of best in class durability exterior 3 layer laminate matched with high contrast orange stain proof 2 layer interior laminated fabric.
=

PERFORMANCE
=

PERFORMANCE
VERSATILE
Oversized interior storage compartment combined with exterior storage clips for expandable storage options.